Please join the Blue Valley Big Blue Dream Committee for an Informational Meeting concerning the construction and fundraising of a new baseball and a new softball fields. When: Friday, November 19 at 6:00 p.m. Where: Blue Valley High School Old Gym and Streamed Live Online (platform TBA) The online platform where the meeting will take place will be announced on Facebook @BVBigBlueDream
https://www.facebook.com/BVBigBlueDream
later this week. IF you are not on facebook please reply to this email and an email will be sent to you with directions on how to stream the meeting live. The BV Big Blue Dream Committee is in partnership with the Blue Valley Community Foundation, Blue Valley Ball Association and Blue Valley USD 384. ***Masks are required in the USD 384 school buildings.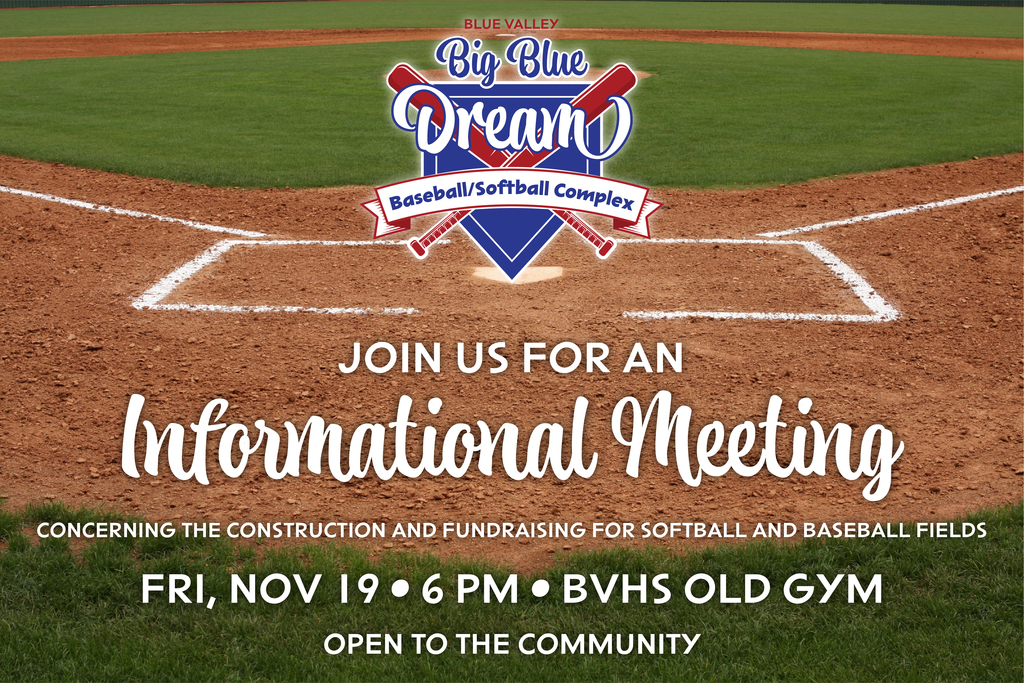 Update on Testing Day 1 - 11-16-21 Good morning everyone! Its a great day to be a RAM!!! We started testing students today to return to school. There have been a few glitches but it appears that this is going to work out well for everyone. Please make sure you read through the documents being sent out. They are meant to help answer questions that we have already received. We will continue to update the documents as needed and share them accordingly. That you for being flexible and giving grace. #RAMFAM
https://docs.google.com/document/d/1vcZ18OU7TTzUilFkqYUMUAyVDvLOJKuQ4Dw_PWV4tQc/edit?usp=sharing

Update on the Update sent earlier. 11-15-21 Just to clarify, "Test to Stay and Learn" starts tomorrow. Anyone who has been in quarantine for SCHOOL close contact can start daily testing tomorrow at 7:30 am. Emails have been sent to parents whose students qualify for PCR testing to schedule times for testing . Please have consent completed prior to arrival if at all If your child is not in quarantine, they do not need tested.

****UPDATE FOR COVID TESTING**** 11=15=21 Hi RAMFAM!!! Just wanted to remind everyone that we start "testing to stay" tomorrow Tuesday 11-16-21 @ 7:30 in the morning @ the middle school. Please enter through the south door (old math room). Make sure you preregister to speed up the process. Get tested, if a negative result you get to stay at school. If positive, yo return home. Consent forms are required by all students. Please make sure you have everything you need when you get here. Please see this document if you have questions.
https://docs.google.com/document/d/1NQ-fo_AOROokagPXXB5E-fDVhN3pMdg8izkvzlYc9O8/edit?usp=sharing


Hi RAMFAM! I need to correct an error on my previous message. The HS Homecoming Parade time for Friday starts at 2:00 pm. I miss spoke and announded the start time at 1:30. That is when the students line up. Sorry for the confusion.

~BVHS Homecoming Schedule~ We will be holding Powderpuff and Spikefest on Friday Oct. 1st starting at 9:25am. Please come watch. Live streaming is available. The Homecoming Parade starts @ 1:30p.m. The parade course will be around the BV Campus and through Randolph. #RAMFAM #BVSTRONG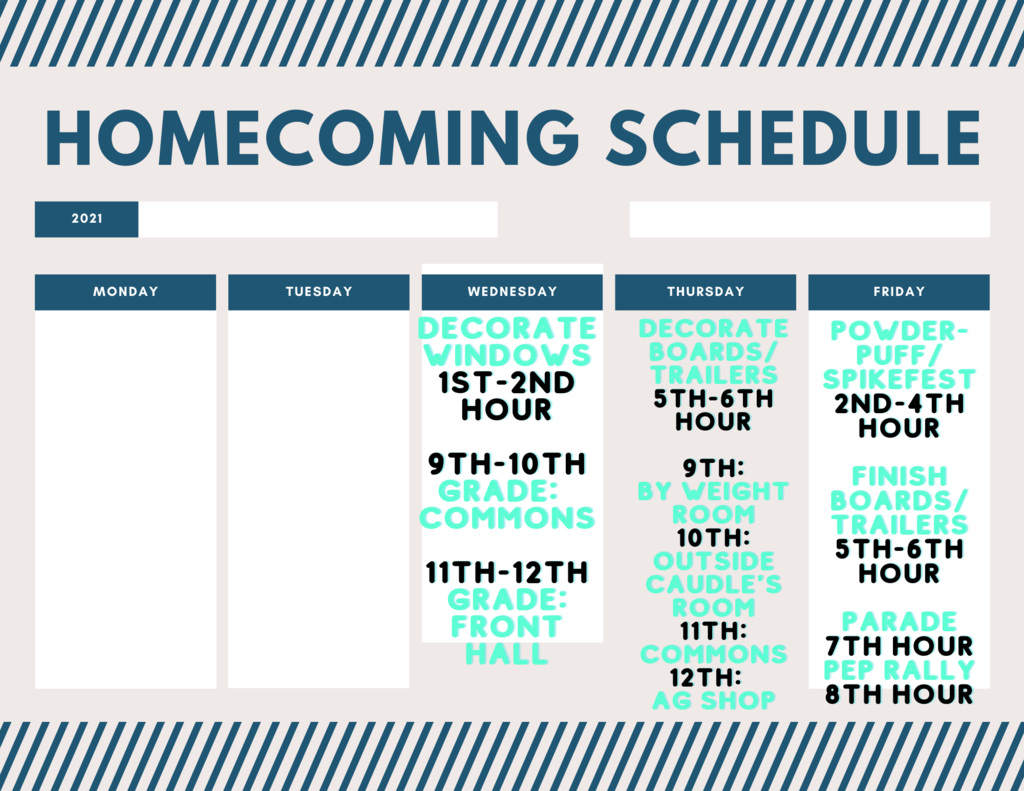 9-23-21 Hi RAMFAM!! I am sending out this message to get everyone geared up for Blue Valley Site Council Meetings. If interested in Site Council complete this survey and we will be in contact.
https://forms.gle/zdGJmWHJdEzsu44h7
Please submit it prior to October 1st by 5:00pm. #RAMFAM

Message from the Superintendent 8-19-2021. Good afternoon, You are receiving this because we were notified today that a student at the Blue Valley Preschool in the afternoon class was a direct contact of a positive COVID case on or before Wednesday 8-18-2021. The student is now quarantined at home and following those protocols from the health department. The areas where the student has been have been cleaned and sanitized by our custodial staff. The Riley County Health Department was notified for guidance. They advised that the students at school yesterday are contacts of a close contact and that we can proceed with school as normal. When students come home, please monitor your student(s) for symptoms and if they experience any, notify your doctor and get a test. It continues to be recommended that everyone wear a mask for personal protection. If they get tested, they can't return to school until you receive the results from your doctor. Contact your building office/administrator to get the student set up on remote learning for the time they are at home. Here is a list of the most common symptoms: Fever (100.4 or higher), Chills, Muscle aches, Fatigue, Headache, Sore throat, Difficulty breathing, Loss of taste or smell If you have symptoms or get tested, please contact District Office 785-293-5356 and let us know immediately.

***Message from the Superintendent, August 1st, 2021 Please use the link below to read about our Blue Valley mask wearing recommendation for the start of the 21-22 school year. While we realize this is a tough discussion topic, we hope that everyone knows we are making decisions that are in the best interest of the students, staff and keeping our schools open during another challenging time. Thank you for support as we start school!!! Go RAMS!! #RAMFAM #BVSTRONG
https://drive.google.com/file/d/1XnEKwx7W89C_eYBbhOf7lGk9BuLslUMk/view?usp=sharing


Hello Blue Valley Families, The summer has gone by so fast. I can't believe we are talking about enrollment already. School starts August 12th! The enrollment portal is now open on our webpage. Please enroll your children in PowerSchool using the instructions at
https://www.usd384.org/page/online-enrollment
. This year we are requesting that you complete the Household Economic Survey (HES) that the State is using instead of the free and reduced application that was used in the past. By completing this form, it helps the district qualify and receive additional State funding that we otherwise won't get if the form isn't completed. If you qualify for free or reduced, your school fees may be reduced by half or at no charge with the exception of the school computer technology fee for grades 8-12. (This fee covers the insurance cost for repairs and/or replacement of damaged technology.) Please return the HES form by Friday July 23rd, 2021. No fees will be charged at enrollment. Fees will be determined based on this application. After review, an invoice will be emailed to you for payment through our online payment center.

Message from the Superintendent July 7th , 2021. ***Important - Parent Feedback Requested**** Please take a couple of minutes to read the information and complete the 3 question survey at the bottom of the message. The survey will close on Monday July 12th at 4pm. The District is gathering parent feedback on using a bus location tracking app. Parents would be able to access the information on the app and be able to locate their student(s) bus during the route as well as be able to set alarms for when they get close to their designated bus stop. (Parents would have to set it up to make it work properly.) Depending on the services purchased the cost of the application and initial fees could be approximately $8200 up to $15,500 for the full package. We are looking at the base package of $8200 for cost effectiveness. It would include the tracking portion, hardware to be installed on the buses, and a basic bus safety and maintenance portion. There are annual fees associated with it from that point of approximately $5000 at today's cost. Is this a service that you as a parent of a Blue Valley USD384 student would value and want? Is this service something that you would be willing to pay a $56 per person per year transportation fee for. The fee would help purchase the equipment and maintain the annual costs? The fee would only be incurred by parents that have students who are on a dedicated route. The fee would not include shuttle routes or activity/athletic transportation.
https://forms.gle/voViaZCFZtpZLwdy6
We are celebrating our reading accomplishments today with a party in the park!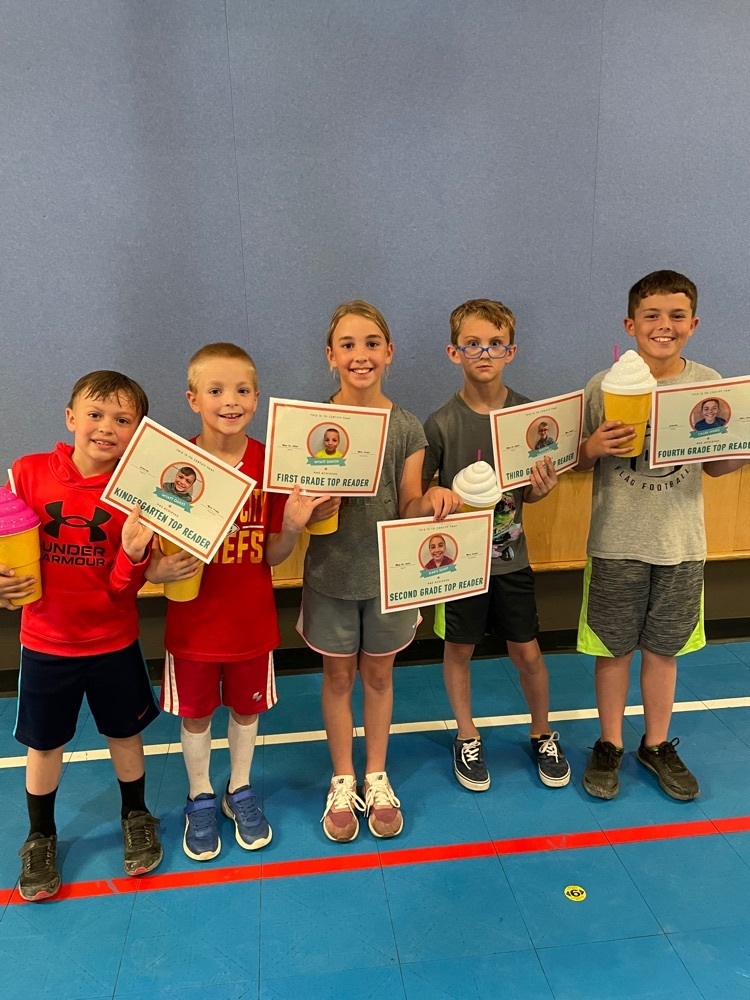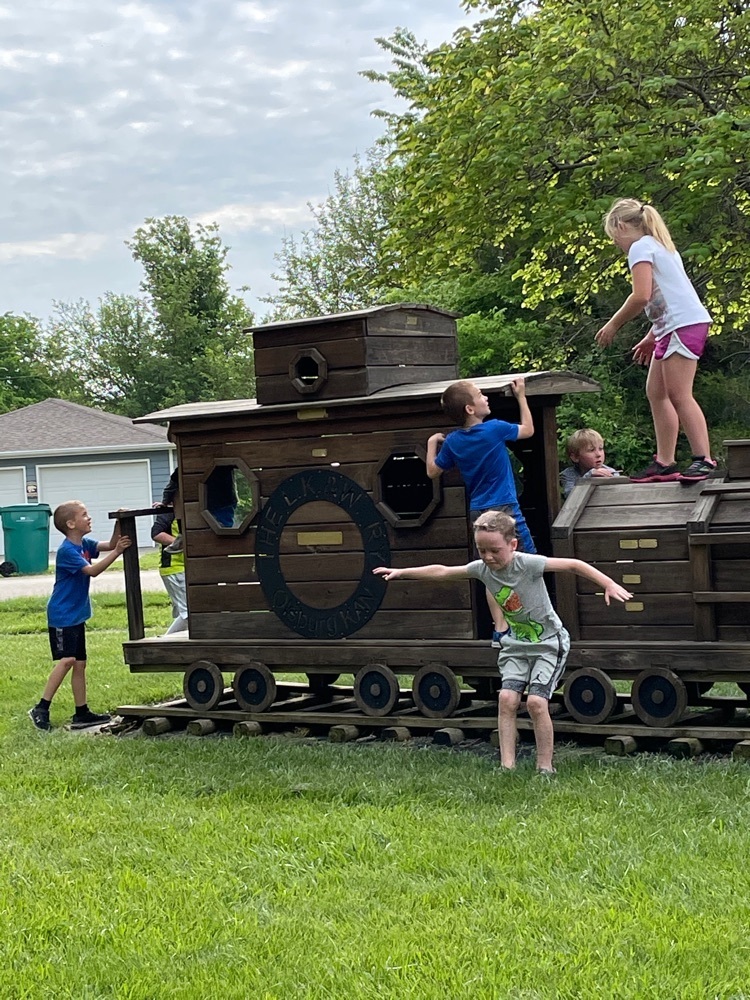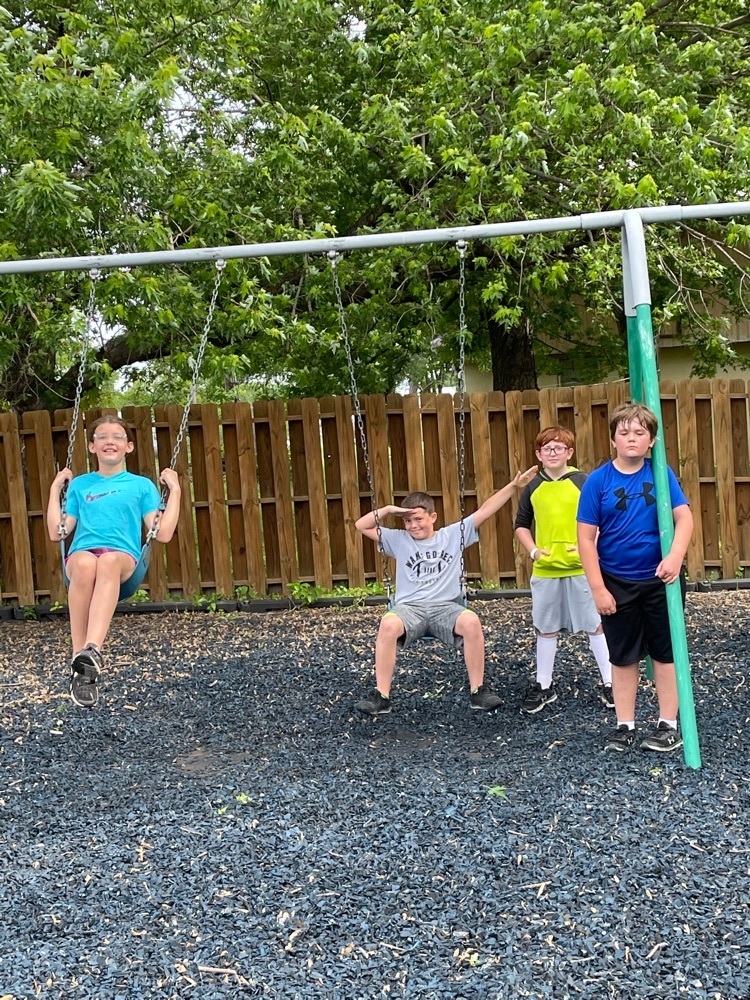 The second graders completed a STEM project today. They had to design a freestanding home and then create it using 3D shapes they constructed. Their designs turned out great!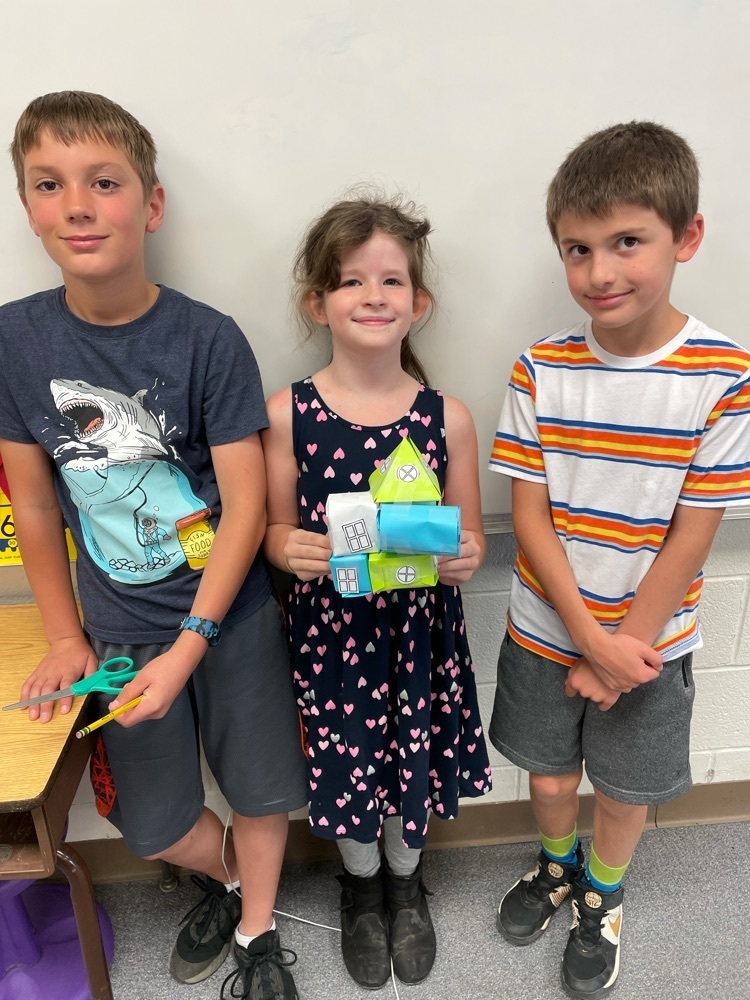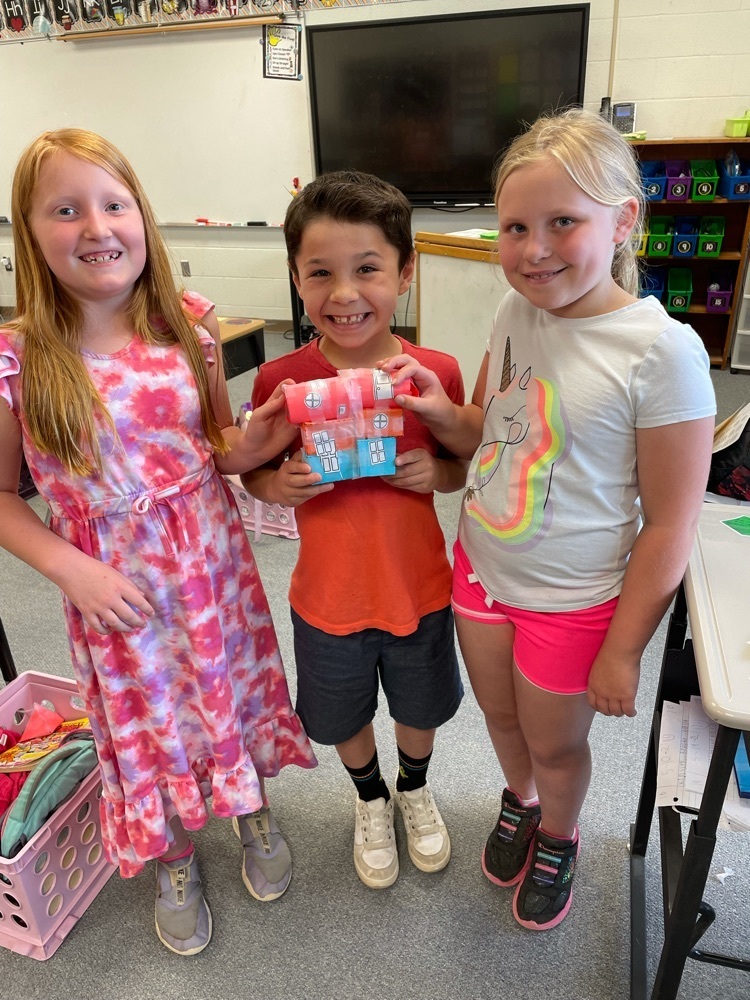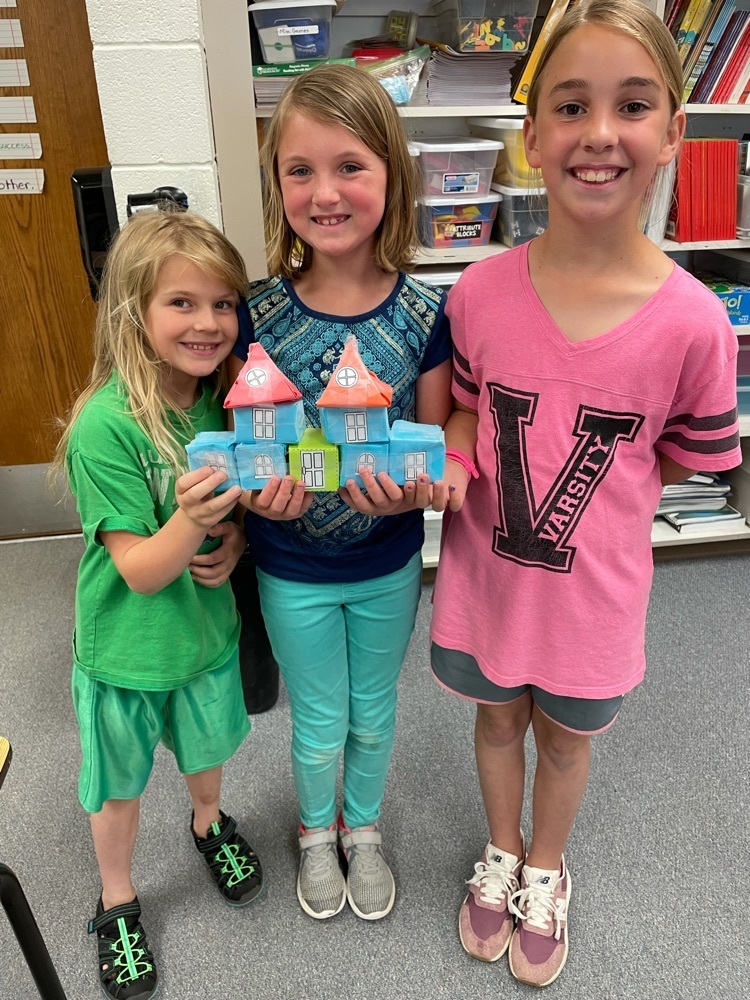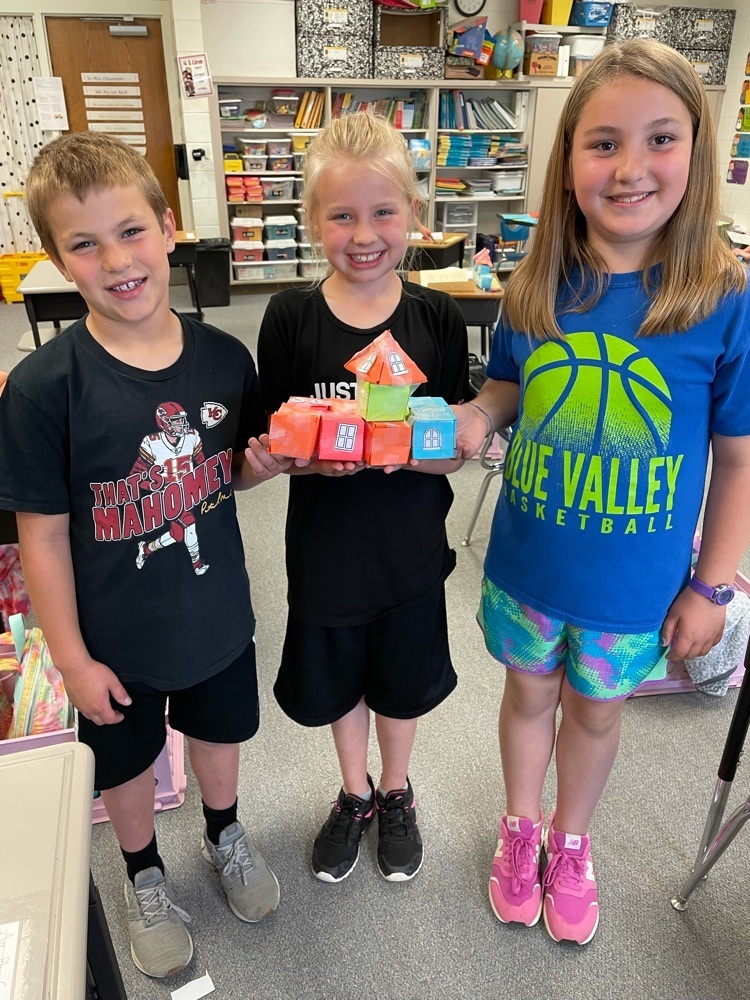 UPDATE FROM THE SUPERINTENDENT ABOUT M.E.S. FIELD DAY ON 5-21-2021 Hi McCormick Elementary Families, on Friday May 21st we are having our Talent Show and Field Day. If the weather does not allow us to go outside for Field Day, we will have Play Day at BVHS in the high school gyms. The Talent Show portion remains the same in the old gym, parents and siblings are allowed to attend and we will live stream it for those who can't attend.
https://www.youtube.com/channel/UCqKdd_8bqVck6cY
If we have to have Play Day inside, we will not have the space for parents and siblings to remain and watch the activities that are being planned. Please understand that this would not be our preference but if we have to stay inside we would ask parents and sibling to leave after the talent show. If we are able to go outside, parents and sibling are encouraged to stay and watch the activities. Either way we would then plan on returning to McCormick at approximatley 3:15 with those students who live in Olsburg. The students who live in Randolph would stay at BVHS until the end of the day with staff to supervise them.
Last week the 4th Graders went to tour the middle school for 5th Grade Move Up Day! They were able to spend some time with the 5th graders to get a glimpse of what school will look like for them next year.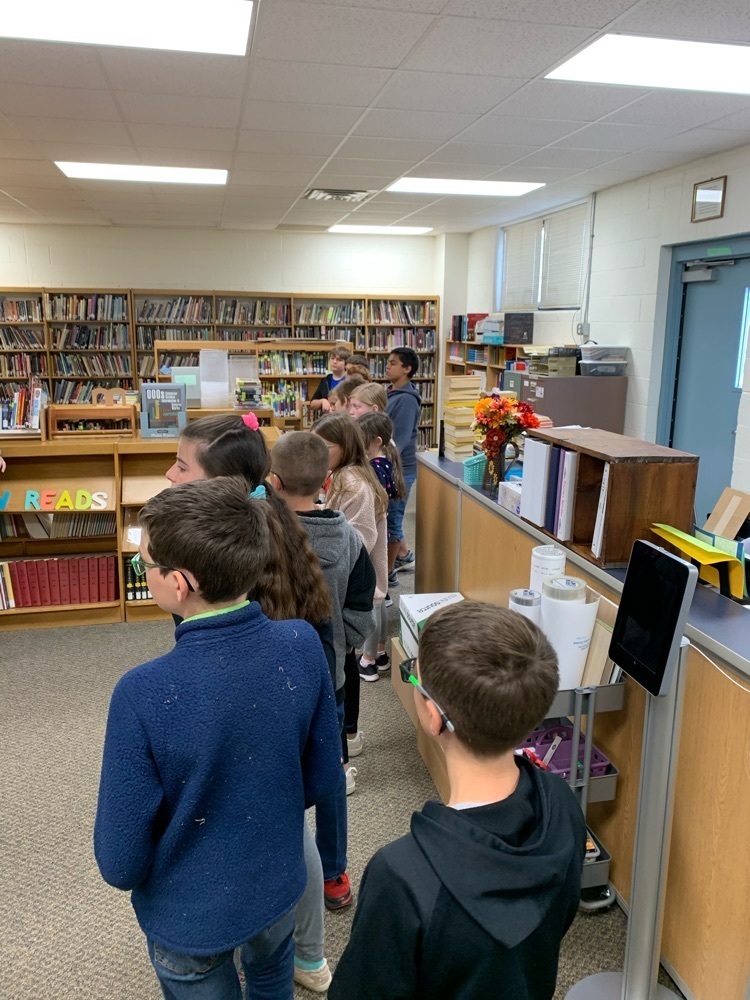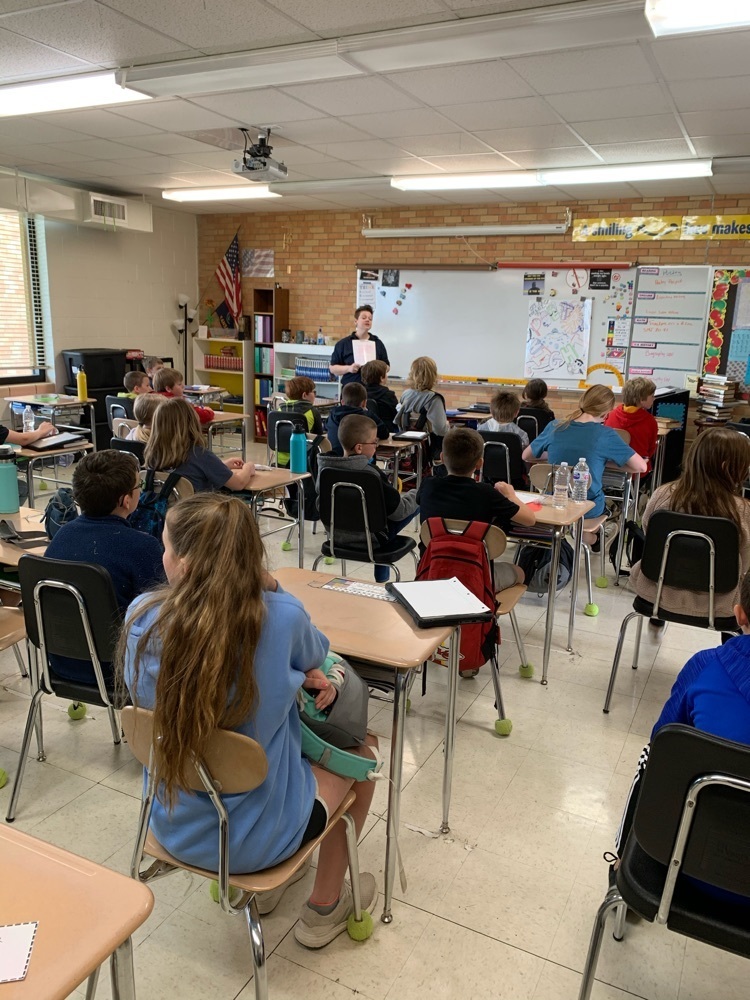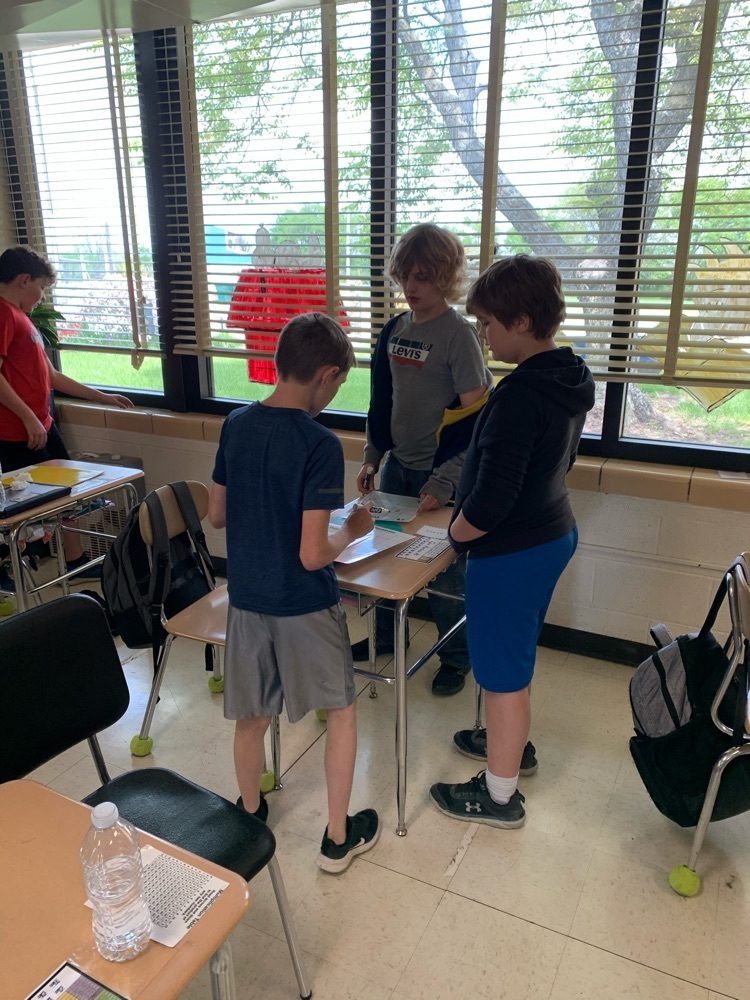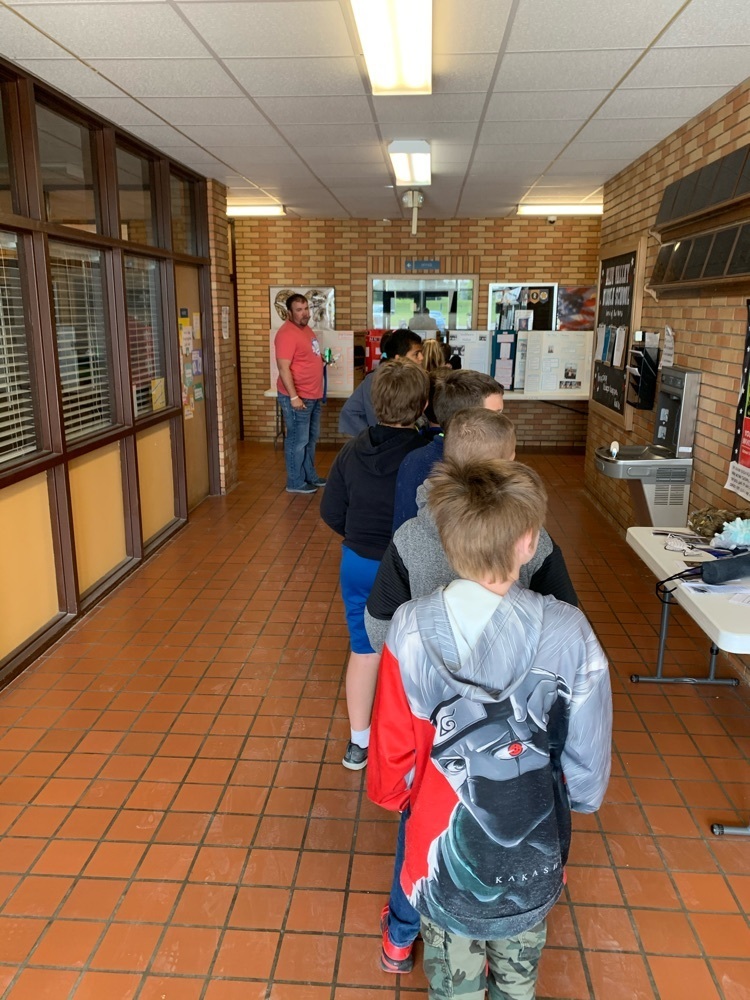 Spring Concert! Tuesday, May 18th, 7:00pm at the high school in the new gym. FCCLA is serving hamburgers & hot dogs before the concert. This meal is a free will donation. The high school art classes have art on display in the hallway for your viewing pleasure. Please have students use the bathroom and get a drink before going to their place in the gym. Please have students at the high school at 6:50pm. Reminder that audience attendance is for parents and siblings, the concert will be on the school YouTube channel for everyone else to watch live.
https://www.youtube.com/channel/UCqKdd_8bqVck6cYDxlPpZsw
It was a fun Friday in first grade!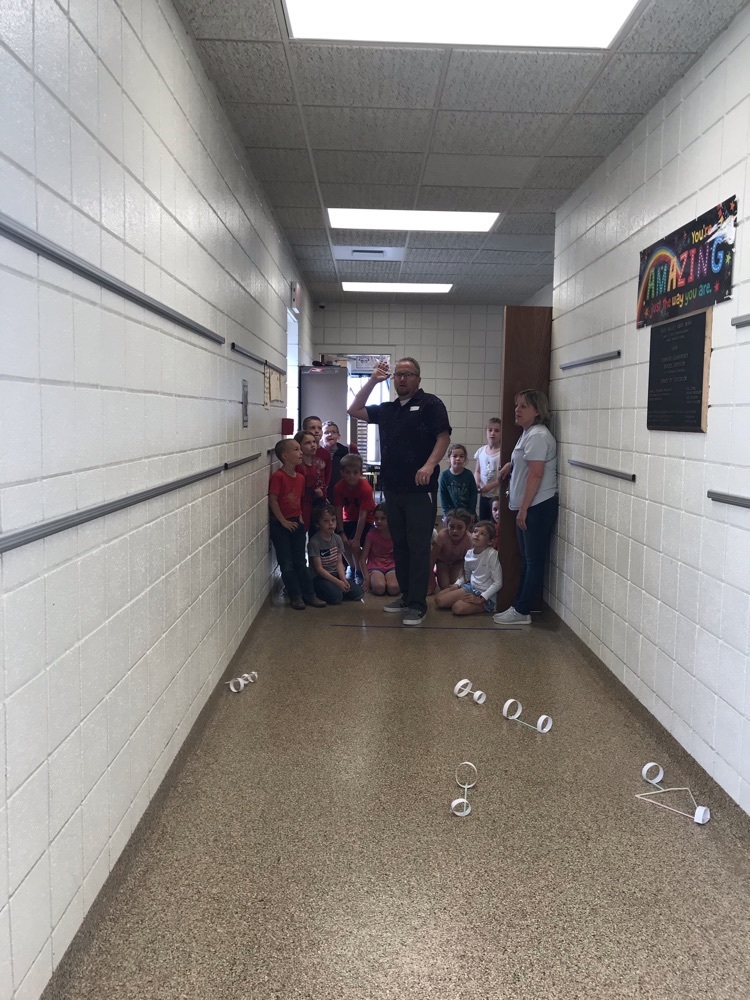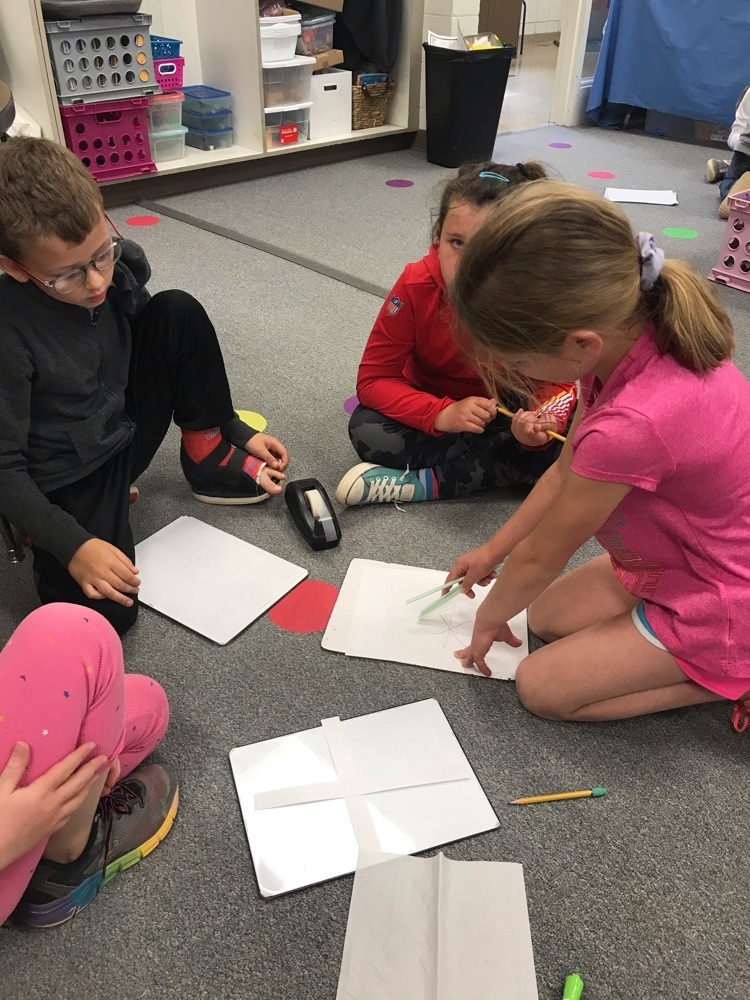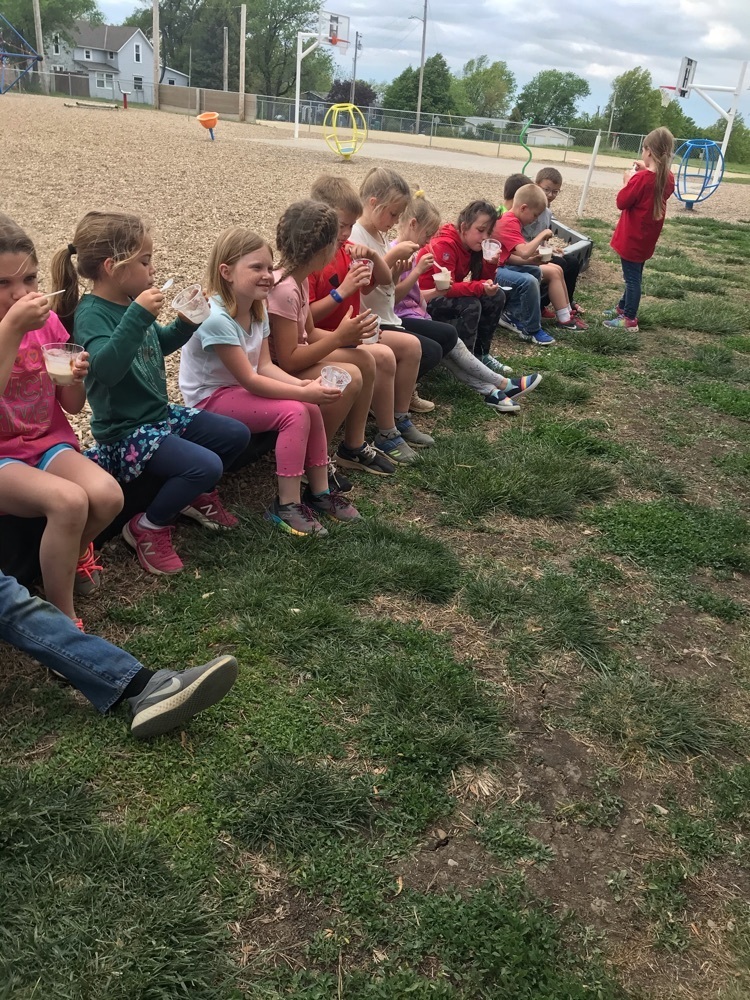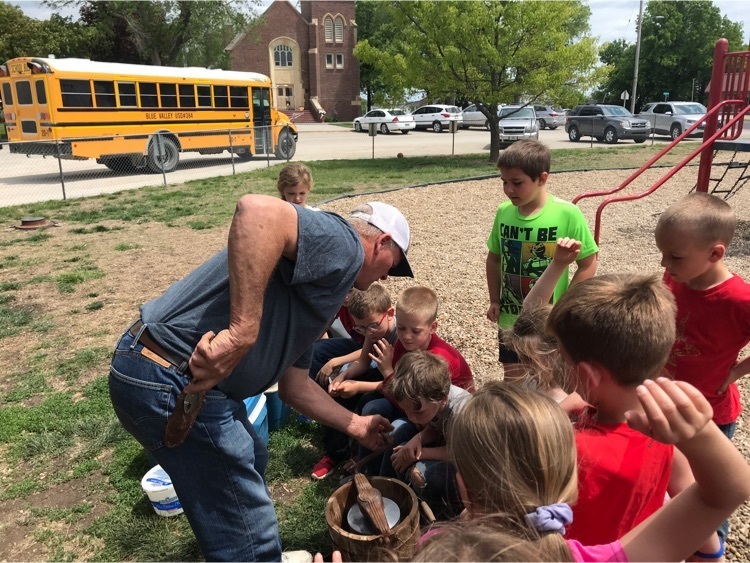 MESSAGE FROM THE SUPERINTENDENT 5-14-2021 Hi Blue Valley Families, I wanted to share with everyone that McCormick Elementary will have their annual Talent Show / Play Day next Friday May 21st at BVHS starting at 12:00 noon in the Old Gym. Due to the number of people expected and our need to social distance for safety, we need to limit the number of people who can attend the indoor portion of this day to parents and siblings of MES students. We will also Live Stream it so that those who can't attend won't miss it.
https://www.youtube.com/channel/UCqKdd_8bqVck6cY
After the talent show, we will have our Play Day on the BVHS football field/track. and return to MES about 3:15. We are excited about having this event after the year we have gone through. Hopefully the weather cooperates. If not, we will update everyone as needed. It's a great day to be a RAM!!!