The Great Alumni Project -- This year a special initiative has been adopted by our High School Site Council that is working towards gathering knowledge of our tremendous Blue Valley legacy among our Blue Valley Alumni! Our hope is to connect with our Alumni to share updates occurring at Blue Valley and provide information on Alumni-events throughout the school year! Please help us by sharing this link to gather contact information for our Alumni:
https://docs.google.com/forms/d/e/1FAIpQLScnTBXTFsghyIkKKu_9yU6aw8AkAalakAYhZ3049cUT8QjjxA/viewform

If you have not yet paid for your meal at the Fall Sports Banquet, please have that ready when you check in. ($10 per plate) Check in for your meal ticket by the High School office. We are excited to see you all there!

BVMS Stuco Cookie Dough orders will be ready for pickup Thursday, Nov. 17 at 3:00. Please make arrangements to pick up your cookie dough Thursday between 3:00-7:00. Mrs. Ellis will be at school to help load out. Cookie dough must be picked up Thursday as it will require refrigeration. Contact Mrs. Ellis at the middle school if you have questions.
A great group students attended Math Day at Washburn University. Each student competed in an individual mathematical exam and then competed in the group "Mathnificent" Race.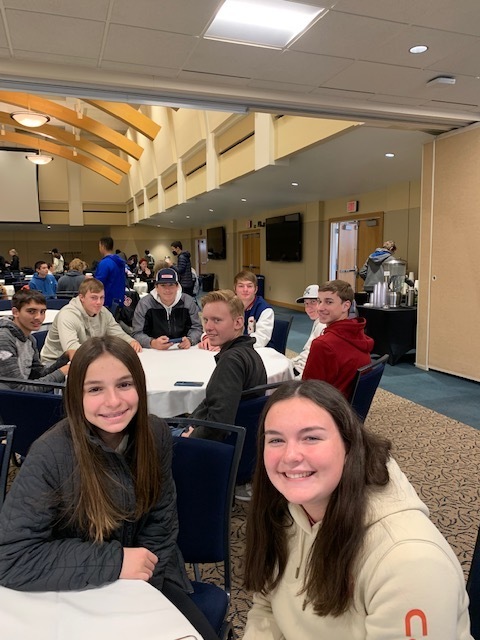 11-15-22 shorturl.at/GIJX3. Hi RAM Nation! Here is the November 2022 Edition of the BVMS / District Newsletter.

Reminder that RSVP's for the meal during our Fall Sports Banquet are due today! This lets us know how much food needs to be brought in, so please fill this out! Thank you! The link is attached below to the google form.
https://forms.gle/J5A4xb1gwp8H3Hfo7
5th grade students completed a Turkey in Disguise.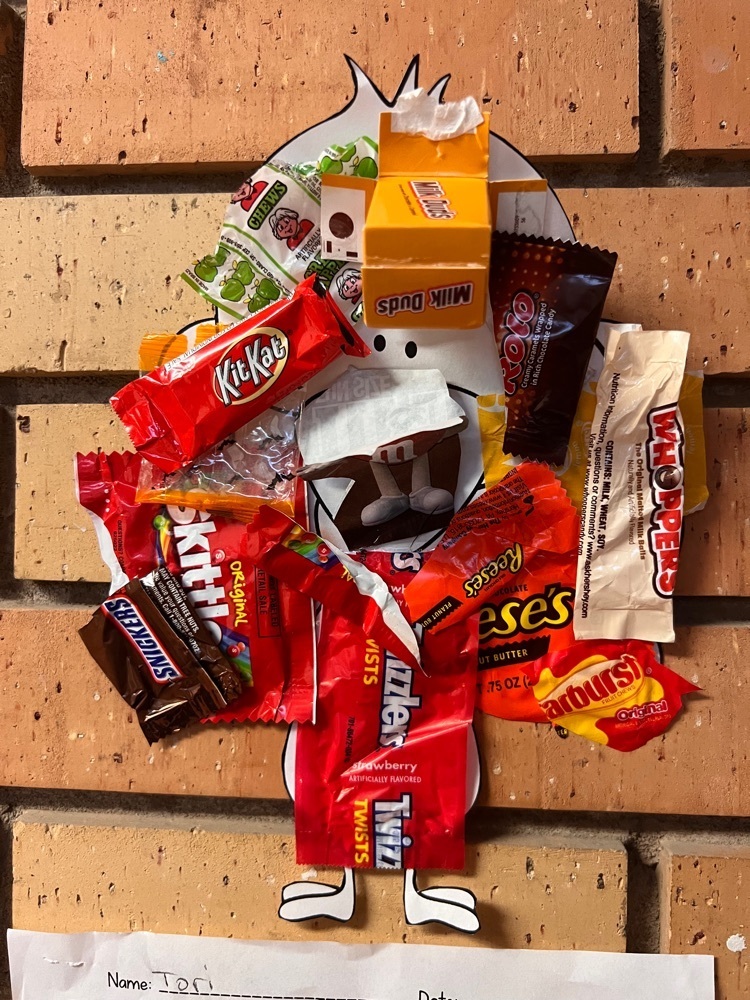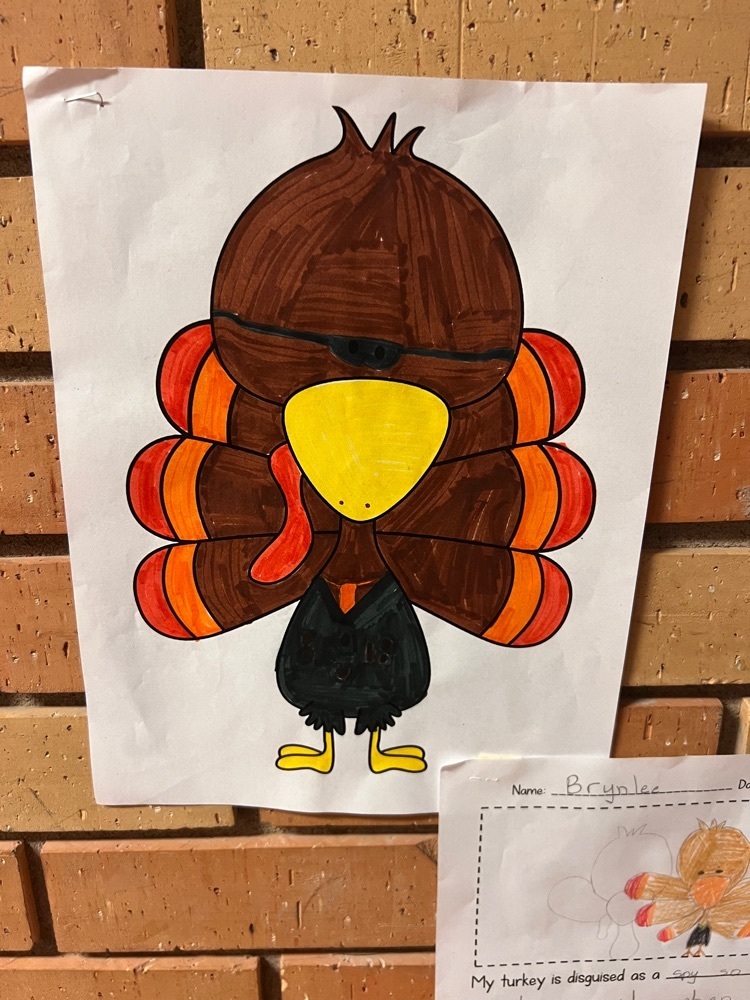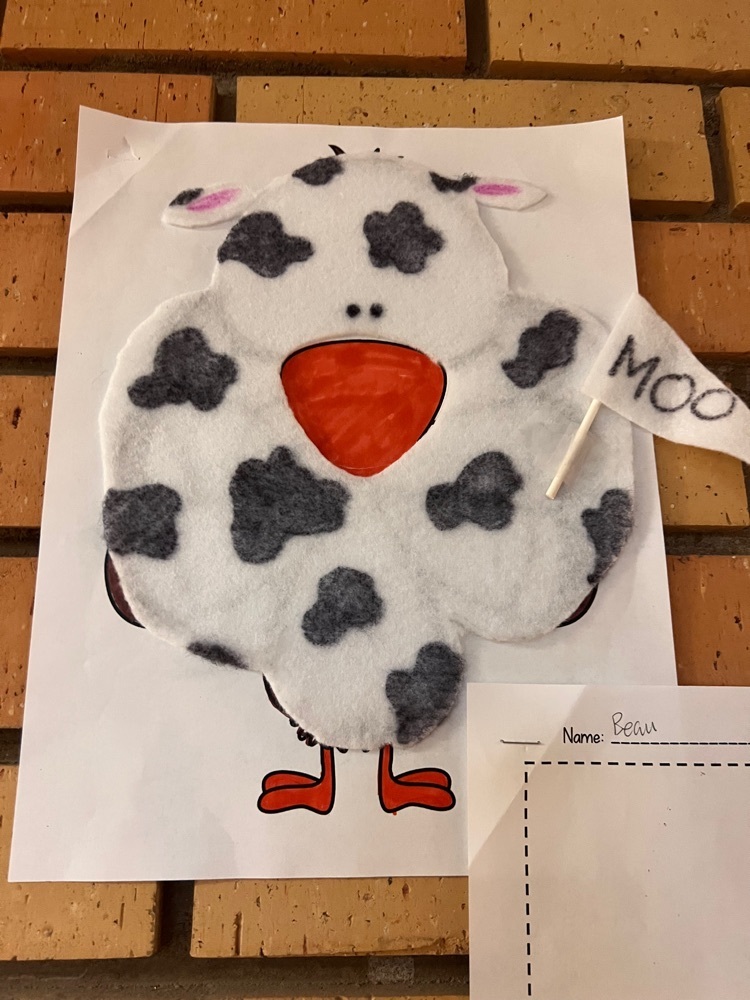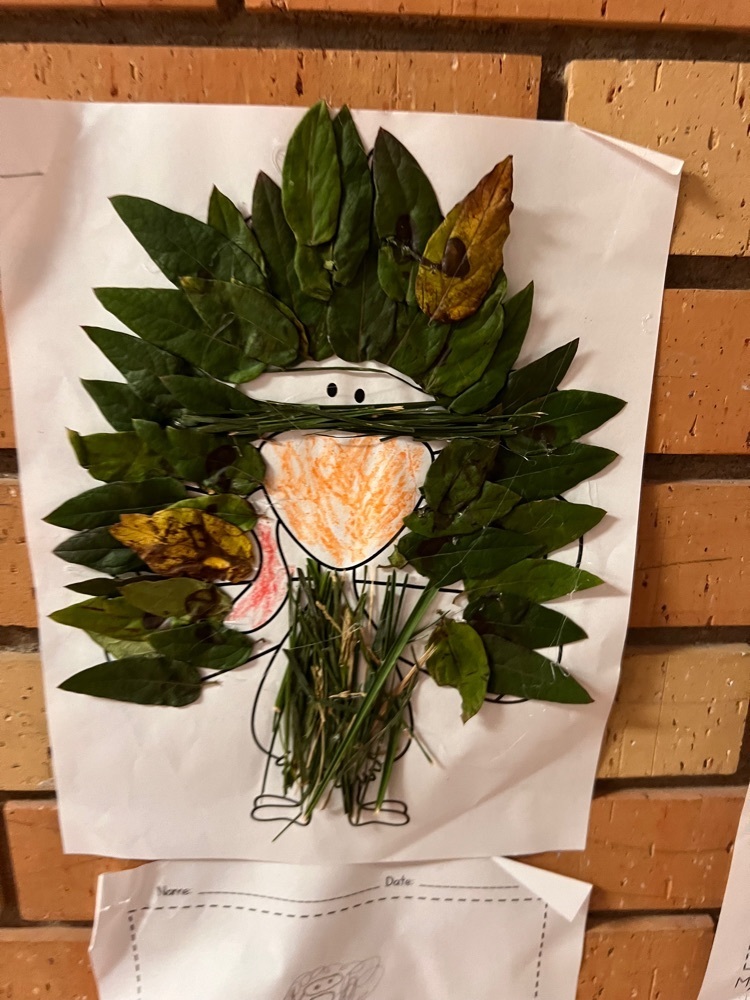 The Blue Valley All School Play was a great success. The students put on the production of "Murder by 10" by Eddie McPherson. It was a lot of laughs. Ms. Luhman and Ms. Jessip would like to thank all those who were involved in the production. If you would like a copy of the play please send a flash drive with cast or crew member. We look forward to the next production.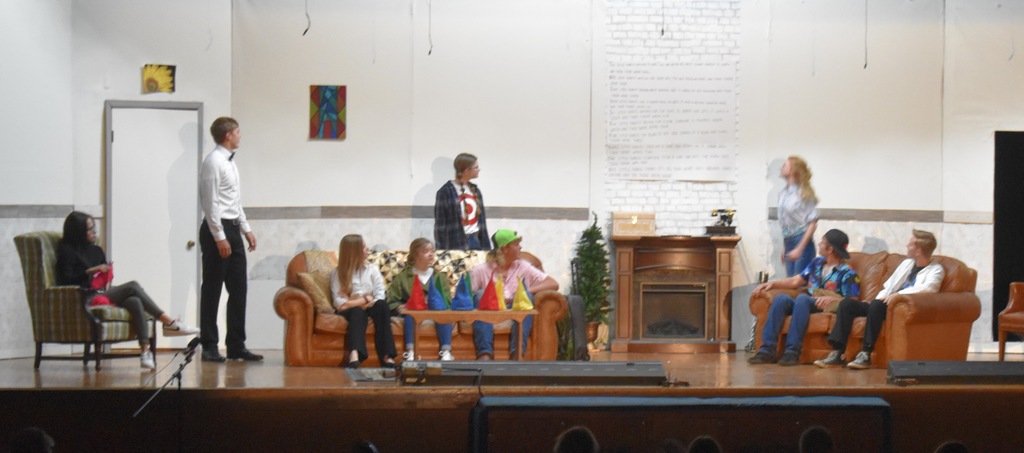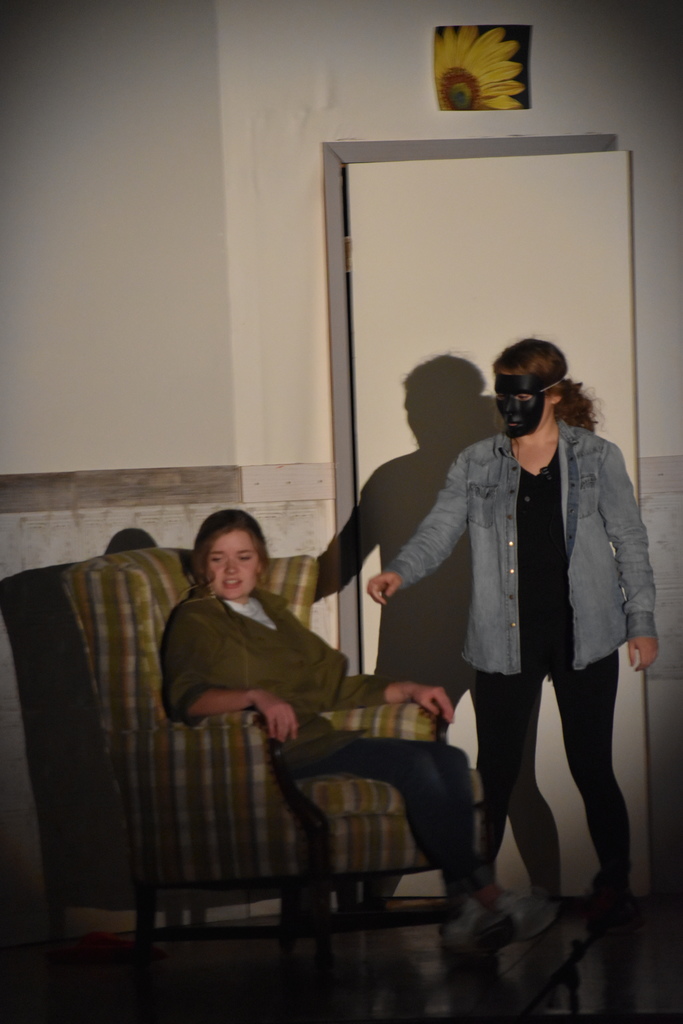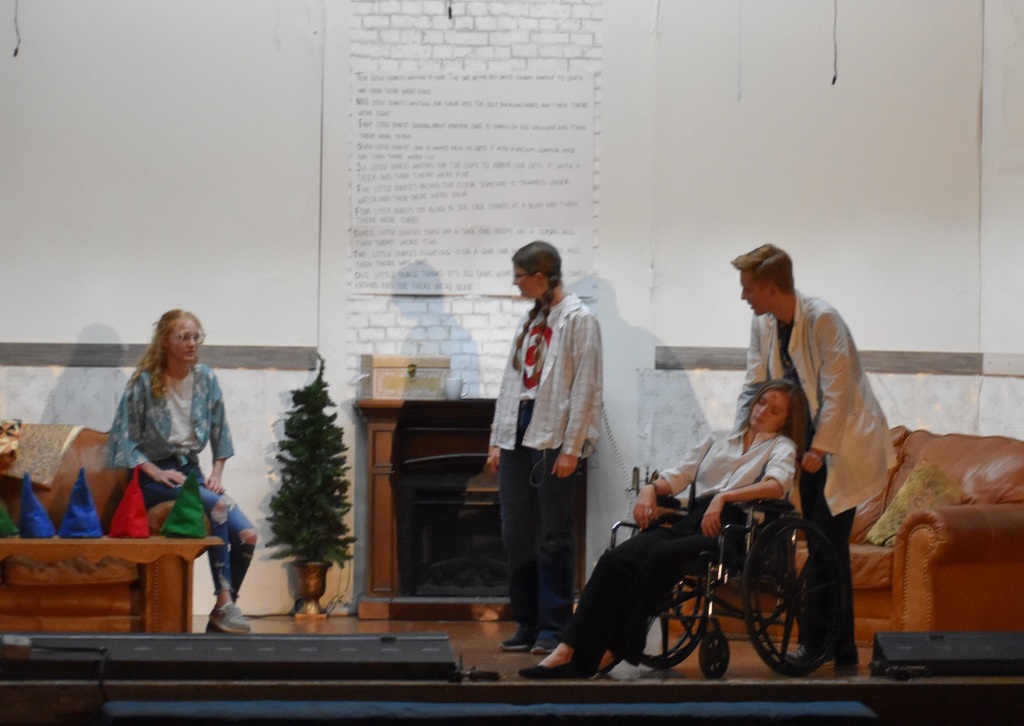 11/09/22 - Just letting everyone know, college visits went well but vans are running a little behind. We're looking at approx. a 15-min delay with the routes. Thank you for your patience.

Monday, November 21st will be our Blue Valley Fall Sports Banquet! This will be for both Junior High and High School student-athletes. Please take a look at the flyer below as the meal will be catered. We hope to see you all there! Please click on the link to RSVP for the meal!
https://forms.gle/VsNoCj4smac6NYQ6A

shorturl.at/qtAHK Please use this link to read information about the middle school Halloween Party on 10-31-22. Have a RAMtastic day!

FCCLA and the Randolph Methodist Church are hosting a Blood Drive, Tuesday, November 1st from 8:30 a.m. – 2:30 p.m @ Randolph Methodist Church. Be sure to give thanks and give back this November! Patients are counting on the generosity of volunteer blood donors to shake up their holiday traditions and give blood. Make an Appointment to Donate Blood: To schedule your life-saving appointment visit
www.redcrossblood.org
We still 7 appointments available, sign up today.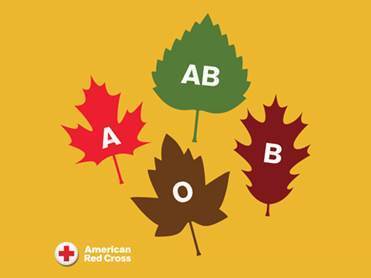 The Rams will be traveling to Wakefield on Thursday, October 27th for their last football game of the season. Kick off is at 7:00pm. See you there!

This is just a quick reminder that we have conferences tonight. The Middle School and High School conferences are in the old gym at the high school. McCormick Elementary School will be in their classrooms. If you haven't had a chance to meet with your students' teachers, we will be here until 8:00 p.m. come on out.
5th graders have been reading and learning about the Constitution all week. Today they got to read with flashlights!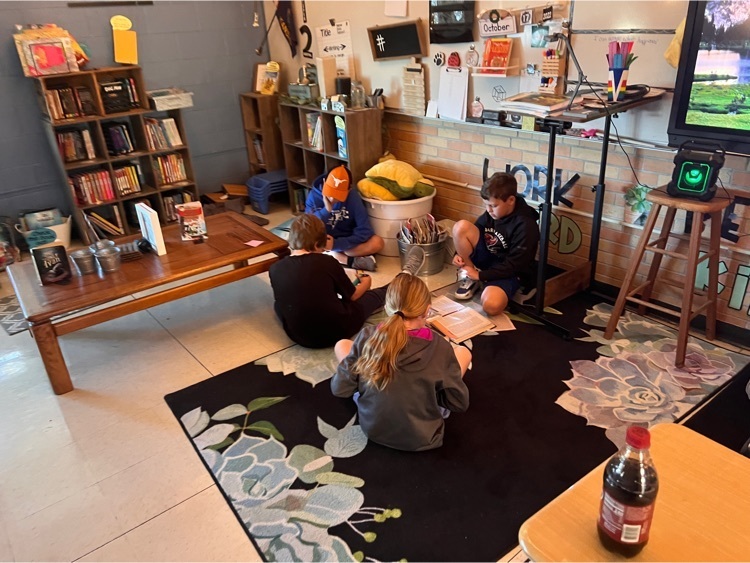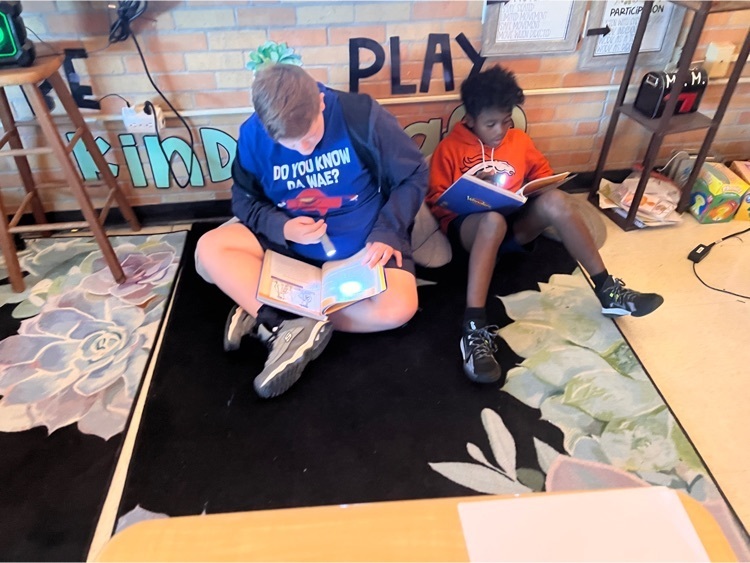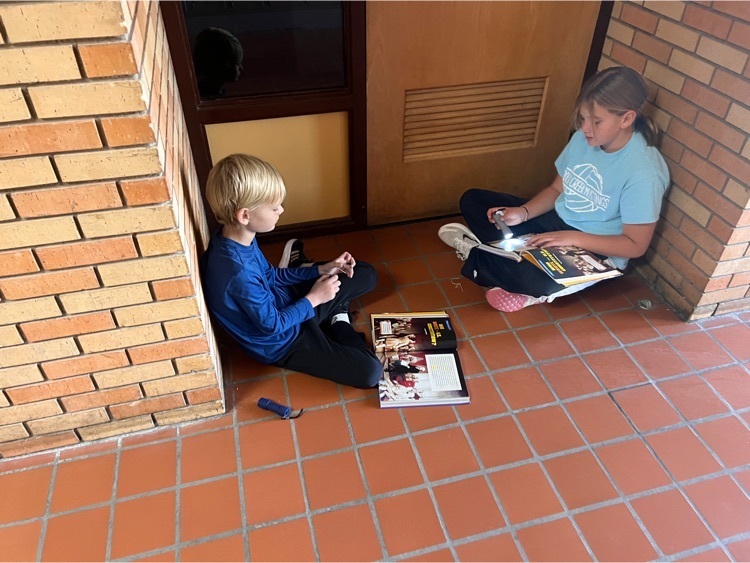 FCCLA is hosting a Spirit Week for Red Ribbon Week next week Oct. 24-27, 2022 Day 1: Follow Your Dreams, not Drugs! PJ DAY Day 2: Give Drugs the Boot! BOOT DAY Day 3: My Future is too Bright for Drugs! Neon Day Day 4: Pair up Against Drugs! Twin (Triplet) Day It should be a fun week. We hope everyone participates.

Blue Valley Theater is preparing their production of Murder by 10, A Murder Mystery Spoof by Eddie McPherson. The performance is November 4th and 5th at 7:00 pm. Advance tickets for both nights are $5.00; however if purchased at the door, tickets are $6.00. FCCLA Dinner Theater is November 4th starting at 5:45. The cost is $12.00 a meal which includes the admission to the play. The meal is Lasagna with garlic bread, small salad, cheesecake, and lemonade, and tea or water. To register for the meal here is the link:
https://forms.gle/HF4HKudQAjGUZHau5
. FCCLA will also be selling flowers. To reserve yours use this link:
https://forms.gle/cfN96YivoBnMg4ex9
. You can also use the QR codes on the posters/pictures that are attached.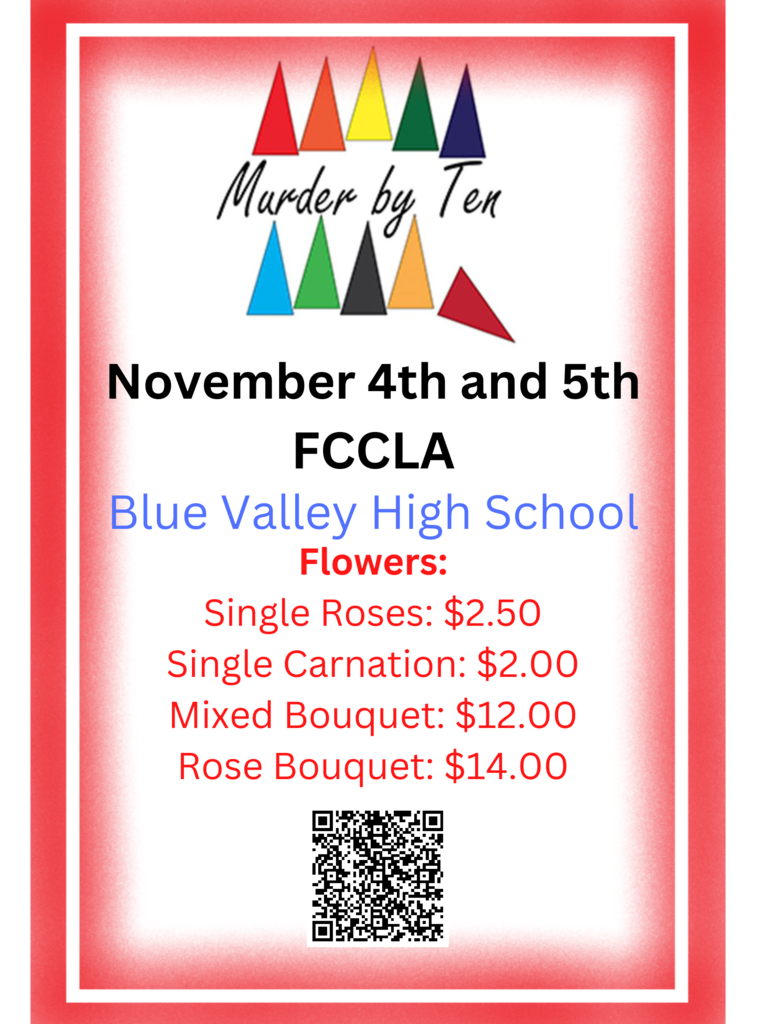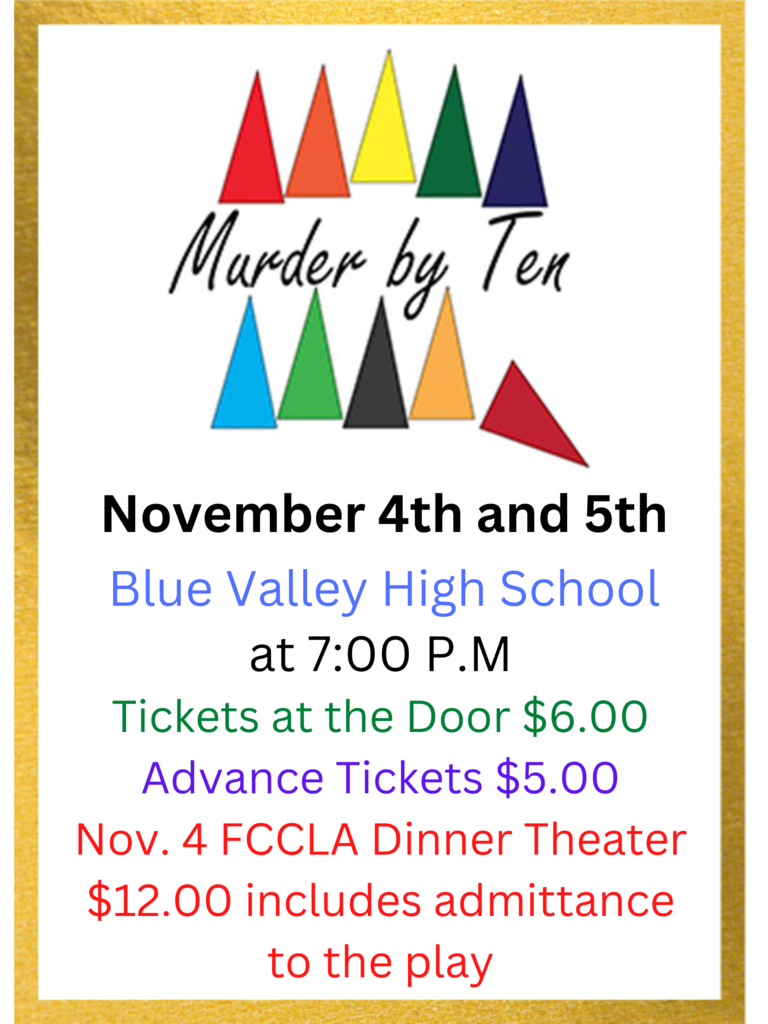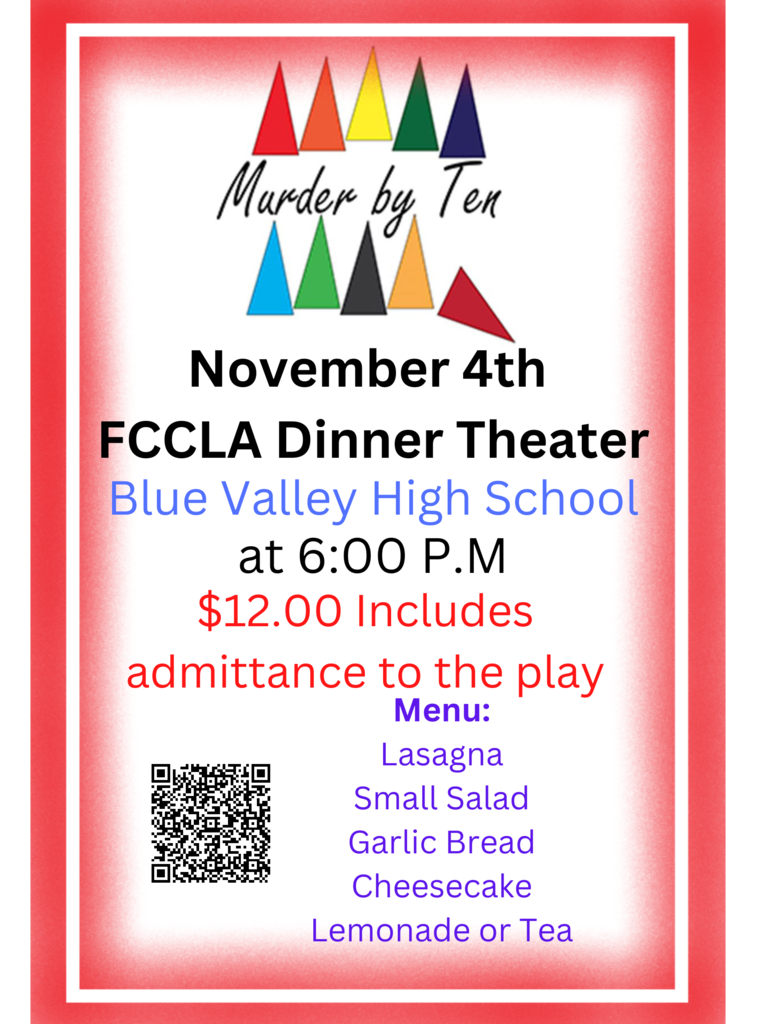 Good afternoon RAMFAM! This is just a reminder that we have parent teacher conferences tonight and on Monday the 24th. The HS/MS will be held at the high school in the gym. It is a come and go format starting at 4 pm and ending at 8 pm. I realize some teacher's have scheduled conferences so attend as scheduled. Thank you for attending your students conference tonight. #BVSTRONG.

FCCLA and the Randolph Methodist Church are hosting a Blood Drive, Tuesday, November 1st from 8:30 a.m. – 2:30 p.m @ Randolph Methodist Church. Be sure to give thanks and give back this November! Patients are counting on the generosity of volunteer blood donors to shake up their holiday traditions and give blood. Make an Appointment to Donate Blood: To schedule your life-saving appointment visit
www.redcrossblood.org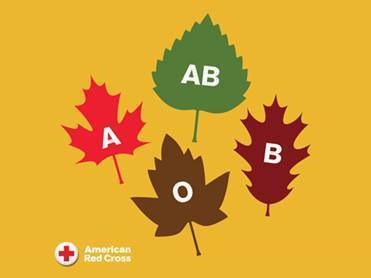 Reminder! There will be an immunization clinic on October 25 at BVHS for any USD 384 students or staff. Influenza and COVID vaccines will be offered as well any school required vaccinations. This is a great time to get your student caught up on vaccinations! There are consents that need completed prior to 1/25 so please email Nurse Emily at
ECassel@usd384.org
if you would like your child to receive immunizations. Thank you! Nurse Emily