Boys won sub state semi game against Beloit St. John 68-50. Finals will be Saturday at 5:30pm. Pep bus will leave at 4pm. Go rams!

Due to the weather sub-state finals have been move up. Games at Alma -Wabaunse on Saturday will be at 4 and 5:30pm.

It's gameday!! Boy's sub-state semifinals tonight @ 6:00pm in Alma/Wabaunsee vs. Beloit-St. John's/Tipton. Pep bus leaves @ 4:15. Come cheer on the Rams!

Sub-State brackets are out! BV Boys will play Beloit/St. John's/Tipton on Friday, March 1st, @ 6:00pm. Games will be played at Alma-Wabaunsee.


Bv beat Washington county. Regional finals for boys will be at 11:30 am Saturday .

Pep bus available tonight for boys game. Cost is $2 to ride bus. Bus leaves at 6 pm.

Blue Valley FFA Community Pancake Feed! Tomorrow morning, Feb. 21st, from 7am - 9am at the BV Ag Ed Center classroom! Thanks for all you do and we hope to see you there!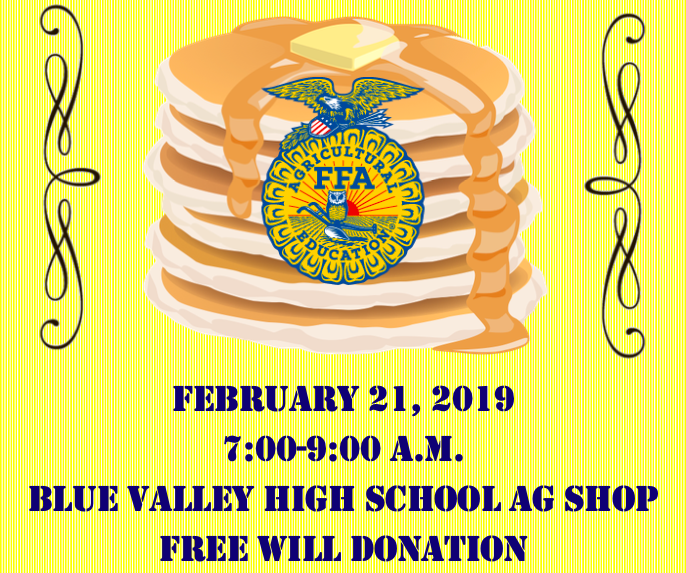 There will be no school Wednesday due to the weather, please be safe.

Middle school scholars bowl cancel for today due to the weather

Middle school scholars bowl at Luckey today has been postponed due to weather. A rescheduled date will be set at a later time.

Boys regional game against Wakefield will start at 5pm in stead of 7pm on Tuesday feb. 19 at blue valley.

There will be no school today due to the snow storm starting later this morning and continuing during the day.

HSBB Regionals: Girls will play their first round game of 1A Regionals on Monday, Feb. 18th. The game will be played at Blue Valley against Washington Co. Boys will play their first game on Tuesday, Feb. 19th at Blue Valley against Wakefield. Tip off for both nights is 7:00pm.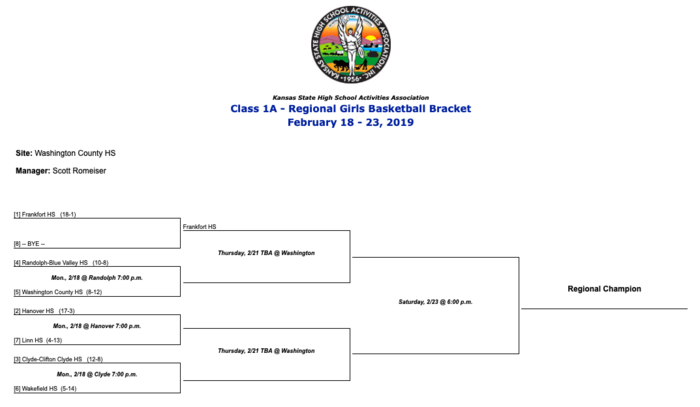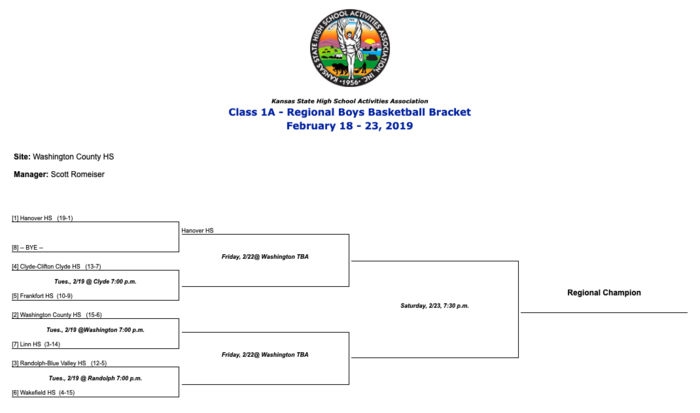 HSBB vs. Centralia tonight, Feb. 12. Games will begin at 4:30pm in the new gym starting with 1/2 JV Girls and then 1/2 JV Boys. Varsity Girls and Boys will follow. All players and parents will be recognized during Parents' Night between the varsity games.

If you receive a call on your cell phone and it shows it's from Little Rock, Ark., it is our new phone messaging system calling with a school announcement. Our new company we use, Apptegey, is based out of Little Rock, Ark. I sent out a phone message last night around 10:00PM concerning our late start of school this morning.

We will be on a 2 hour late start tomorrow (Tuesday) morning . Buses will run 2 hours late.

MS Scholar's Bowl Meet @ Valley Heights has been canceled tonight, Feb. 11th.

Due to the number of days we have missed school for weather and the potential to miss additional days, we will have school Monday, February 18 and release students at 1:15PM at Olsburg and 1:30PM at Randolph so teachers can still have 2 hours of their scheduled professional development day. There will be no Preschool.

No school tomorrow due to the weather conditions. Be safe!

There will be no Blue Valley activities or basketball practice after school today due to the weather conditions.