The Hs track meet today at Frankfort has been canceled and will not be rescheduled. Track practice for Hs students is also canceled for tonight. Marion Mazouch

The BVL track meet at Valley Heights today has been rescheduled for Thursday May 2 at 1pm. There will be no middle school track practice today after school. Thank you. Principal Marion Mazouch.

This is principal Marion Mazouch with this reminder. Tomorrow April 29 is the FFA/FCCLA pork chop BBQ from 5 to 7pm in the high school cafeteria. Cost is only $8 a plate. Take out is also available. Please stay for the MS/HS spring concert and art show starting at 7pm. Thank you for your support for Blue Valley activities!

Don't forget to attend the USD 384 open house Sunday from 2:00 to 5:00PM.

Please come join our FCCLA and FFA Chapters during the Spring Concert and Art Show Pork BBQ on Monday April 29th in the High School Cafeteria! We will be open from 5pm - 7pm; $8 a meal. We will have carry-out available. Hope to see you there!

Blue Valley FFA Chapter Banquet will be on Saturday May 4th starting at 5:30pm in the High School Old Gym. Come help celebrate the tremendous success of our students/members over the past year. The FFA Alumni is providing a meal and the community is welcomed to attend!

Blue Valley FFA Spring Greenhouse Sale will kickoff tomorrow during Open House and continue till May 10th! We have an assortment of hanging baskets, snapdragons, and a few red zonal geraniums. We will be open during school hours. Look forward to seeing you there!

Tomorrow's HS track meet at Frankfort has been postponed due to the possible weather conditions. The meet is rescheduled for April 30th at 2:00pm.

The Winter Sports Banquet will be on April 15th, at 6:30pm. A meal will be catered by Rickey's Catering from Hanover for $6/plate. To RSVP, follow the link and fill out the Google form. Please make your reservation by the end of today.
https://forms.gle/XVe67wU56SGctJWx6

MS Track at Onaga today! Bus will leave @ 11:30am.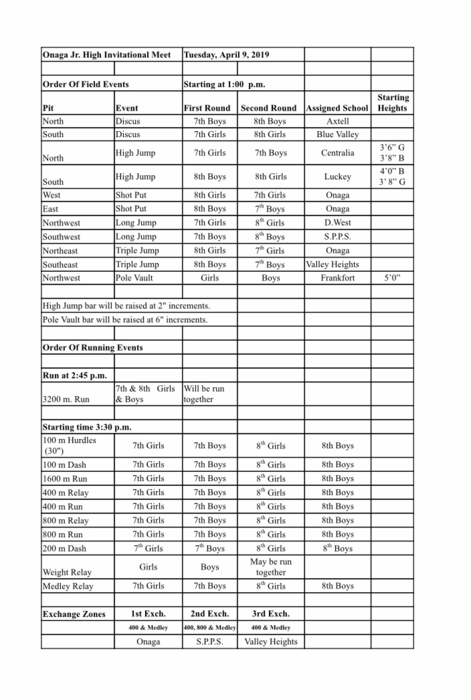 This is principal Marion Mazouch with this schedule change. 8th grade awards/promotion will start at 7pm on Tuesday May 14 in the new gym. Middle school awards for grades 5-7 will remain at 1:30pm also on Tuesday May 14. Thank you.

MS Track Athletes will leave for Washington Co. at 12:15pm tomorrow. Athletes will need to pack their own lunch. A concession stand will also be available. Field events begin at 1:00pm with the 2-Mile starting the running events at 1:45pm.

REMINDER, the McCormick Elementary School 2019-2020 kindergarten round-up is this Wednesday, April 3, from 5:30 to 6:30PM.
REMINDER: Blue Valley 60th Anniversary commemorative t-shirt orders and payment are due to Katie Larson by April 2nd, 2019. Orders will be available for pick up at the high school on April 28, 2019, during the Open House/60th Anniversary Celebration.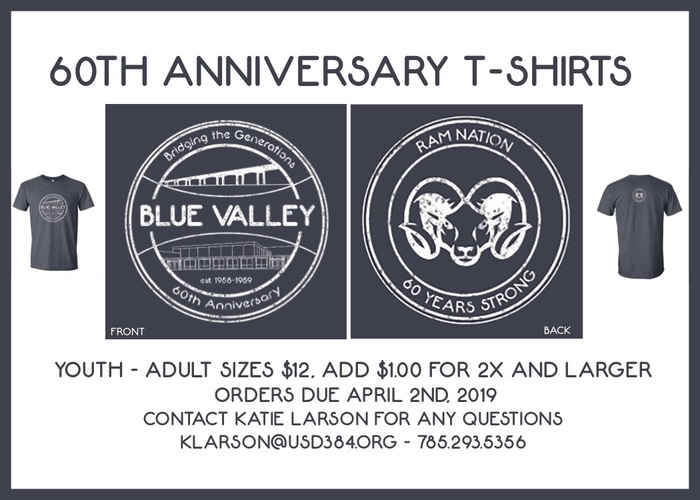 BV is currently accepting sealed bids for used weight room equipment. Bids will be accepted until March 22nd at 1:00 p.m. and can be dropped off at the high school office. Please visit the news section for photos of available items and additional information.

Reminder, Wednesday, April 3, 5:30 to 6:30PM, kindergarten open house at McCormick Elementary School.

Parent and student meeting for driver education will be Thursday March 21 at 5pm in HS cafeteria. Cost is $150. Make checks out to BVHS.

MS Track Practice for 6th-8th graders will begin on Monday, March 18th. Practices will end around 5:00pm. Lifetouch Spring Sports Pictures will also be taken this day. Uniforms will be handed out. To order ahead, go to mylifetouch.com and enter the code: EVTTTMRT7.

We will be on a two hour delay tomorrow morning due to the rural road conditions and the morning wind chill.

Good luck today to boys basketball team at Sub State championship game. Go Rams!